That historians Alison and Mark wanted a home with a story to tell is no surprise. At the same time, the couple wanted something that could be transformed into a place where they could create their own memories with their two young children. "We originally wanted a Victorian terrace, but they were a bit more expensive in this area," says Alison. "It worked out perfectly, though. This house was built in the 1920s, so it still has high ceilings and a sense of space – but it's also a bit boxier and less cramped than some period properties, so we didn't have the problem of dark rooms.
Having originally lived in North East London, the couple wanted something closer to their work, so moved to the North West, looking for a property with more space to their growing family, and which had many attractive original features. This one ticked those boxes, but needed a renovation.
"It belonged to a couple who had lived here for over 40 years," says Alison. "They tried to do a few things to improve it, but there was a lot to do. The living room was to the right of the front door, with a dining room next to the small open-plan kitchen. To the rear were a few buildings, marketed as utility and conservatory. Everything was leaking through the plastic sheet roofing and structures were blocking light loads from entering the house.
However, the property had the right proportions and they discovered that the garden backed onto a park. "On our second viewing, we arrived around evening and saw the sun go down," says Alison. "The sky was filled with beautiful colors; the setting was wonderful.
Settle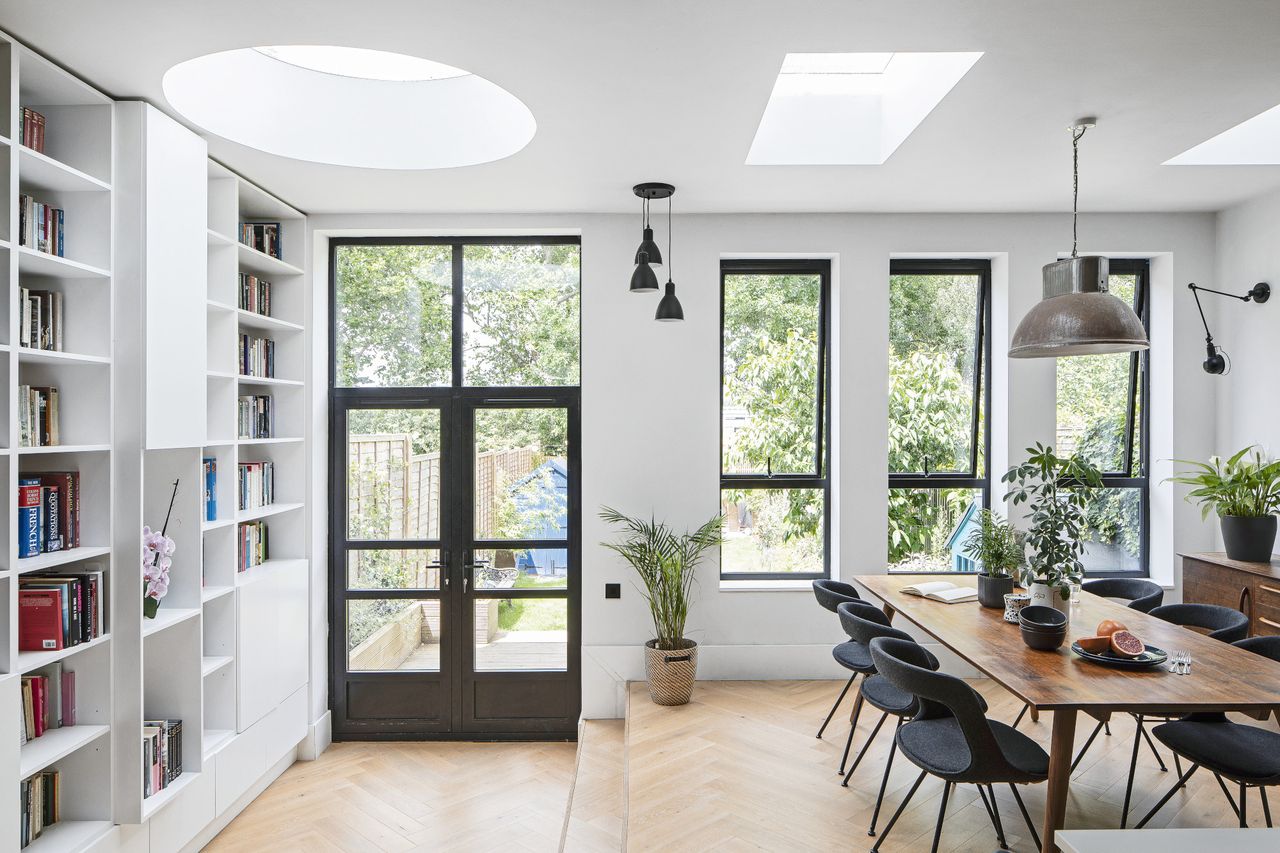 Profile
The owners Alison Carrol and her partner, Mark, who are both historians, live with their sons, Jack and Ben
The property A 1920s three-bedroom terraced property in North West London
Project cost £125,000
The young family had been living at the property before the renovation began and didn't unpack items such as their generous collection of books as they didn't think they would be there long. "We met the architects before finalizing the purchase and they came to see the house. So we felt like things were moving very quickly," says Alison. "Ultimately, however, because we needed planning permission, we lived here for seven months before construction began."
To save money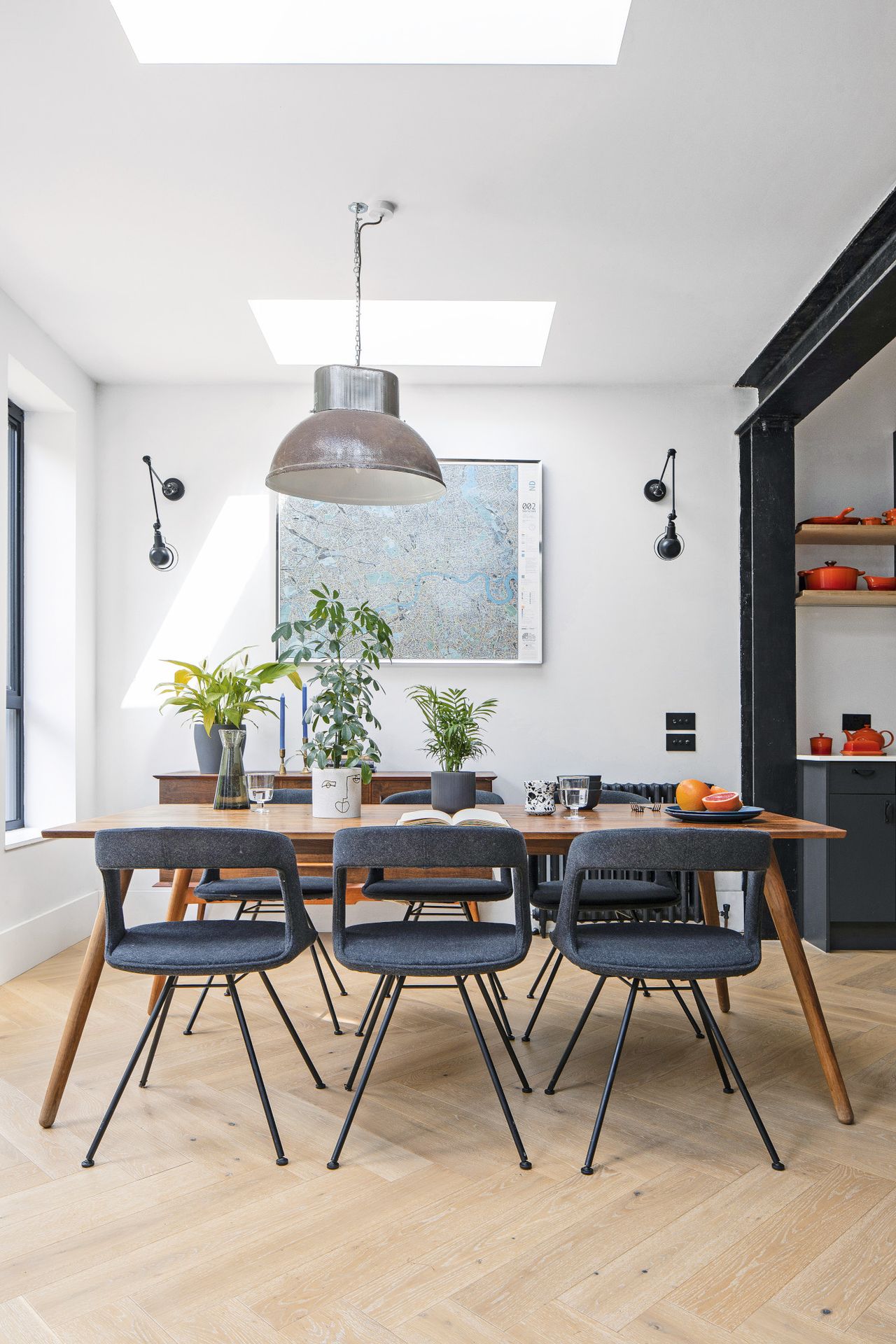 With a tight budget but plans in hand, the family lived with several problems, including a boiler that would never turn on. "It only seemed to run on Sunday mornings for three hours – it was set to a weird pattern," says Alison. "Then all the lights stopped working downstairs and we postponed fixing them as we wanted to save all our money for the renovations. At Christmas, it was festive cooking by candlelight; by February, the novelty had worn off.
The couple managed to save money by deleting their wish list and avoiding some structural changes, such as removing a fireplace mantle and keeping the old first floor layout. Mark painted the entire house, which helped the couple stay on budget, but took up much of the summer of 2019.
Spatial planning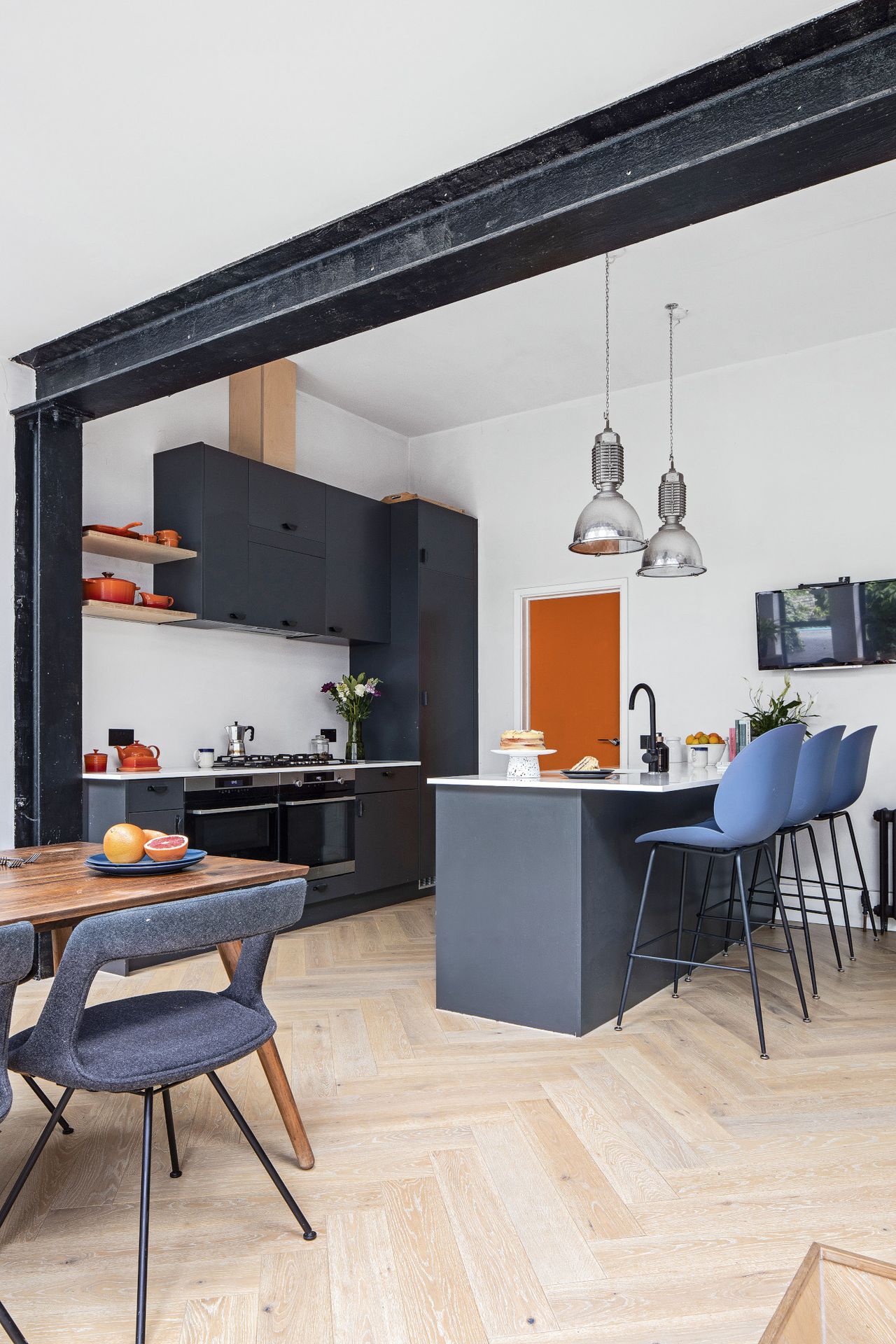 When work finally began to install an extension with a utility and pantry, plus a downstairs WC, Alison and Mark could not have imagined such a stunning result. Their architects, Ester Corti and Andrew Mitchell, completely reworked the couple's initial idea. "We wanted a large, lightweight extension with pleats at the back because that's what we'd seen in other kitchens," says Alison. "However, Ester and Andrew suggested that bi-fold doors can make a west-facing room feel very warm – they recommended something that would still frame the views of the park, while allowing for a gradual transition outwards as the layout original was very disjointed.'
The architects' design solution was one step to enter the kitchen, two steps down into the kitchen to create the extra-height library area, and then two more steps from the terrace to the garden. The kitchen units were fitted by their carpenter and although they looked high end they were relatively cheap and were finished with unique handles from Etsy.
Smart Storage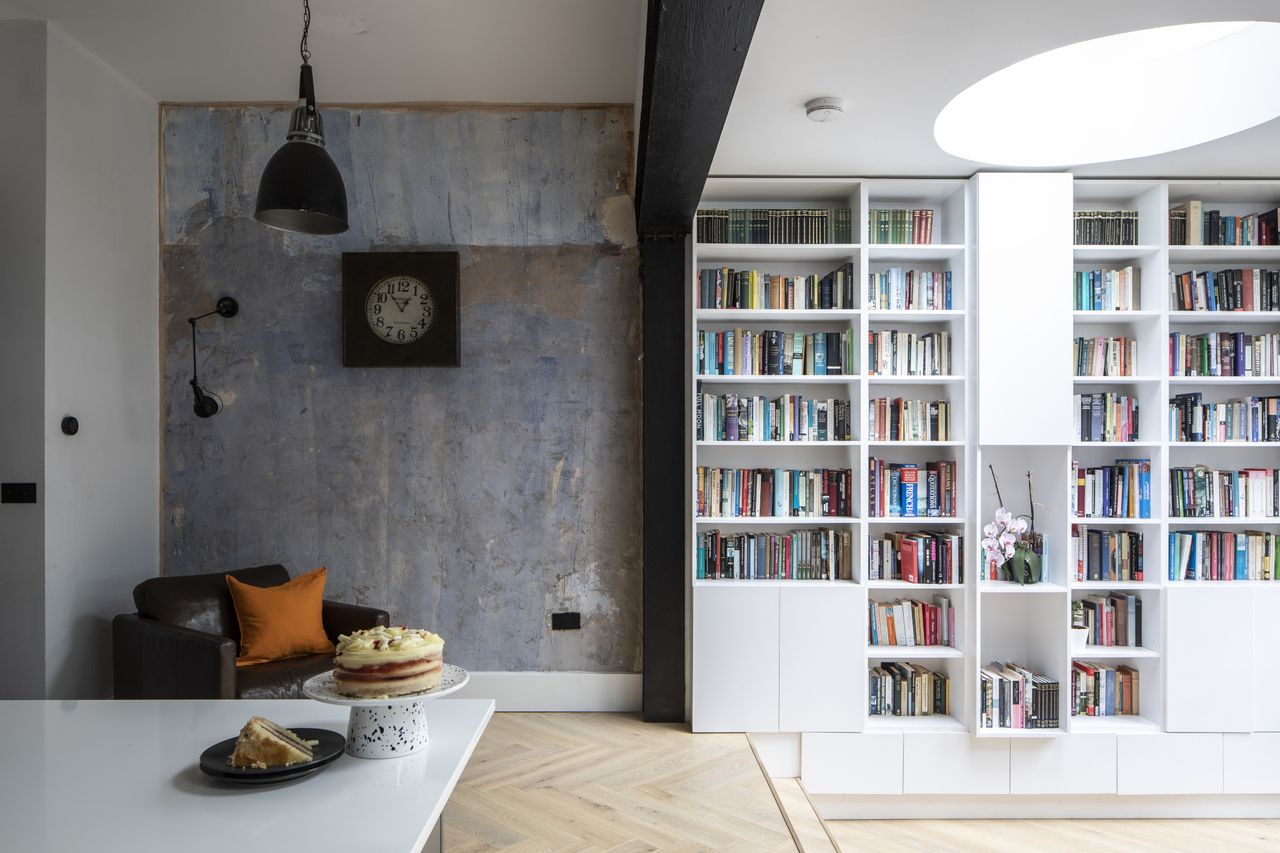 The impressive wall of the library accommodates all the books that the couple still owned in boxes. "We had nowhere to put them, so that sparked the concept for their design with the bespoke bookcase and high ceiling with skylight," says Alison. "We talked about retaining as many Art Deco features as possible, which also influenced the circular design of the skylight and library."
The library hides the boiler and allows you to store children's toys. The blue wall is actually old plaster that was part of the original kitchen. When the floor-to-ceiling tiles were removed, the unusual color was exposed. "The architect called us on vacation to tell us about it, suggesting we keep it," says Alison. "We are very happy to have done so."
Indoor-outdoor link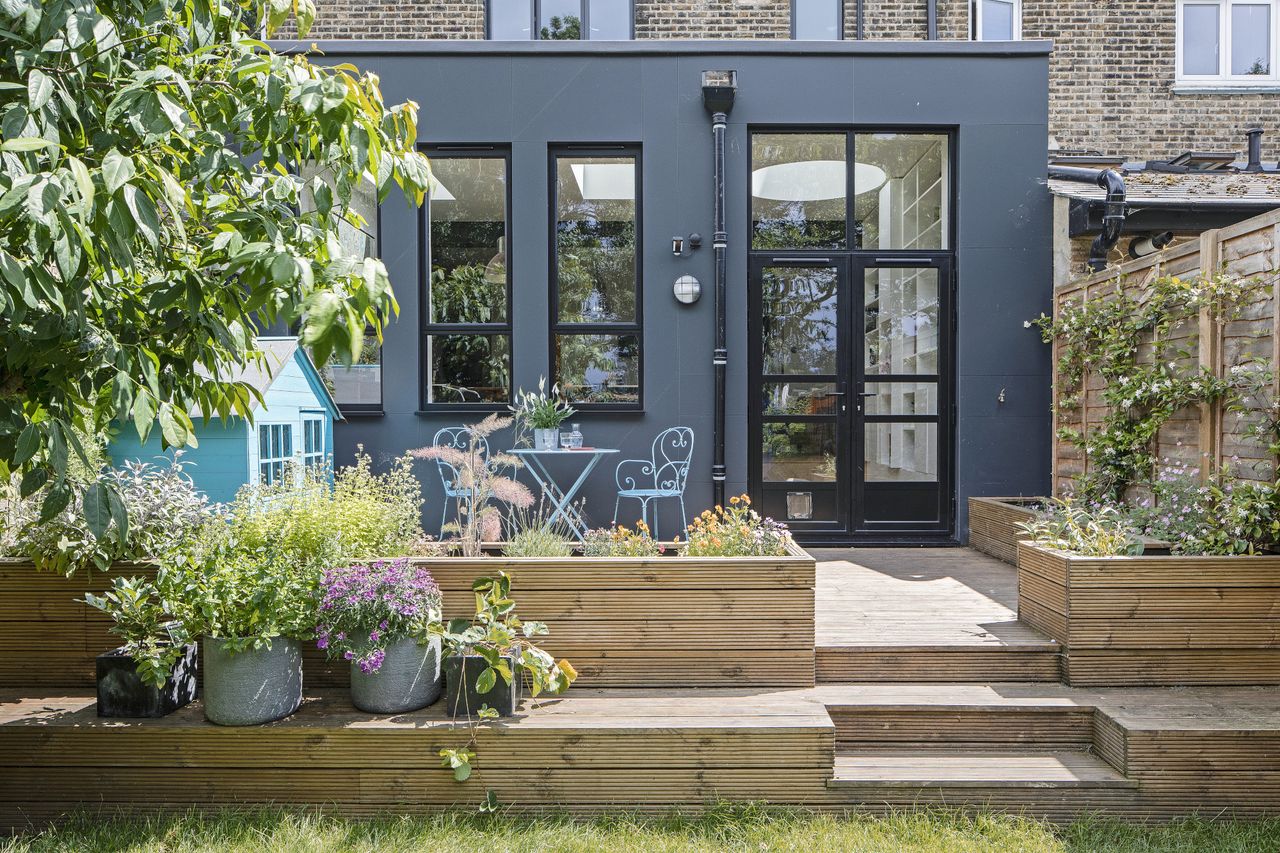 Stepping out onto a wooden deck, the garden is now perfect for everyday living as well as entertaining. "There was a very big drop of over a meter between the house and the garden, and our little boy was 18 months old when we moved in," says Alison. "We wanted something that would allow him to move between the house and the garden safely, while bringing the house closer."